In the world of SEO, it's essential to understand the importance of using LSI keywords to boost your website's search engine rankings. In this article, we'll explore what LSI keywords are, how to find them, and how to incorporate them into your SEO strategy.
What is LSI Keyword?
LSI (Latent Semantic Indexing) keywords are words or keyword phrases that are semantically related to a particular topic or keywords. LSI keywords are not just synonyms or variations of the main keyword, but rather they are words that are commonly found together with the main keyword in a specific context.
For example, if the main keyword is "apple," some LSI keywords might include "fruit," "orchard," "juice," "nutrition," "vitamins," "apple pie," and so on. These keywords are related to the main keyword "apple" in terms of their context and meaning.
LSI keywords are important in SEO (Search Engine Optimization) because they help search engines to better understand the content on a webpage and to determine its relevance to a particular search query. Including LSI keywords in your content can also help to increase its visibility and ranking in search results.
Are LSI keywords the same as synonyms?
No, LSI keywords are not the same as synonyms. Synonyms are words that have the same or similar meanings, while LSI keywords are words that are commonly associated with the main keyword in a particular context.
What are the benefits of using LSI keywords?
There are several benefits to using LSI keywords in your SEO strategy, including:
Improved search engine rankings: By using LSI keywords in your content, you're providing search engines with more context and relevance, which can help improve your website's rankings.
Better user experience: LSI keywords can help you create content that's more relevant and engaging to your target audience, improving the user experience on your website.
Increased traffic: By improving your search engine rankings and creating better content, you can attract more traffic to your website.
Do LSI keywords have any disadvantages?
While there are many benefits to using LSI keywords, there are a few potential downsides to consider:
Overusing LSI keywords: If you use LSI keywords too frequently or inappropriately, it can hurt your search engine rankings and turn off your audience.
Focusing too much on keywords: It's essential to remember that LSI keywords are just one aspect of a successful SEO strategy. Don't forget about other important factors, such as creating high-quality content and building backlinks.
When did LSI keywords become relevant?
LSI keywords became relevant in the early 2000s when search engines began to use algorithms that could better understand the context and relevance of web pages.
The Impact of LSI Keywords on SEO
Using LSI keywords can have a significant impact on your SEO strategy. By providing more context and relevance to your content, you can improve your search engine rankings, attract more traffic, and create a better user experience.
How to find related keywords with LSI keyword tools
There are several LSI keyword tools available that can help you find related keywords to use in your content. Some popular options include Google Keyword Planner, LSIGraph, and SEMrush.
How to use LSI keywords for SEO
To effectively use LSI keywords for SEO, it's essential to:
Focus on user experience: Create high-quality, engaging content that provides value to your audience.
Conduct thorough keyword research: Use LSI keyword tools to identify relevant keywords to incorporate into your content.
Incorporate LSI keywords naturally: Don't overuse LSI keywords or force them into your content.
Here are a few final tips to help you effectively use LSI keywords for SEO:
Keep your content relevant and up-to-date.
Use LSI keywords in your headings, subheadings, and meta descriptions.
Don't sacrifice quality for quantity. Create high-quality, engaging content that provides value to your audience.
In conclusion, using LSI keywords is an effective way to improve your website's search engine rankings, attract more traffic, and create a better user experience.
Intent-targeting keywords are specific keywords or phrases used in digital advertising to target a specific audience based on their intent or behavior. These keywords help advertisers reach their target audience by matching the user's search query with relevant ads.
The four types of intent-targeting keywords are:
Informational: These keywords are used by users who are searching for information on a particular topic. Users using informational keywords are generally in the early stages of their buying journey and are looking to learn more about a product or service. Examples of informational keywords include "how to" and "what is."
Transactional: These keywords are used by users who are ready to make a purchase or take a specific action. Users using transactional keywords are often in the later stages of their buying journey and are looking to buy a product or service. Examples of transactional keywords include "buy," "order," and "subscribe."
Commercial: These keywords are used by users who are comparing products or services before making a purchase. Users using commercial keywords are in the consideration phase of their buying journey and are looking to compare features, prices, and reviews. Examples of commercial keywords include "best," "review," and "compare."
Navigational: These keywords are used by users who are looking for a specific website or brand. Users using navigational keywords already know about a particular brand or product and are searching for the brand's website or other related information. Examples of navigational keywords include brand names or URLs.
By using intent-targeting keywords in your digital advertising campaigns, you can reach the right audience at the right time with the right message.
How to find search intent keywords :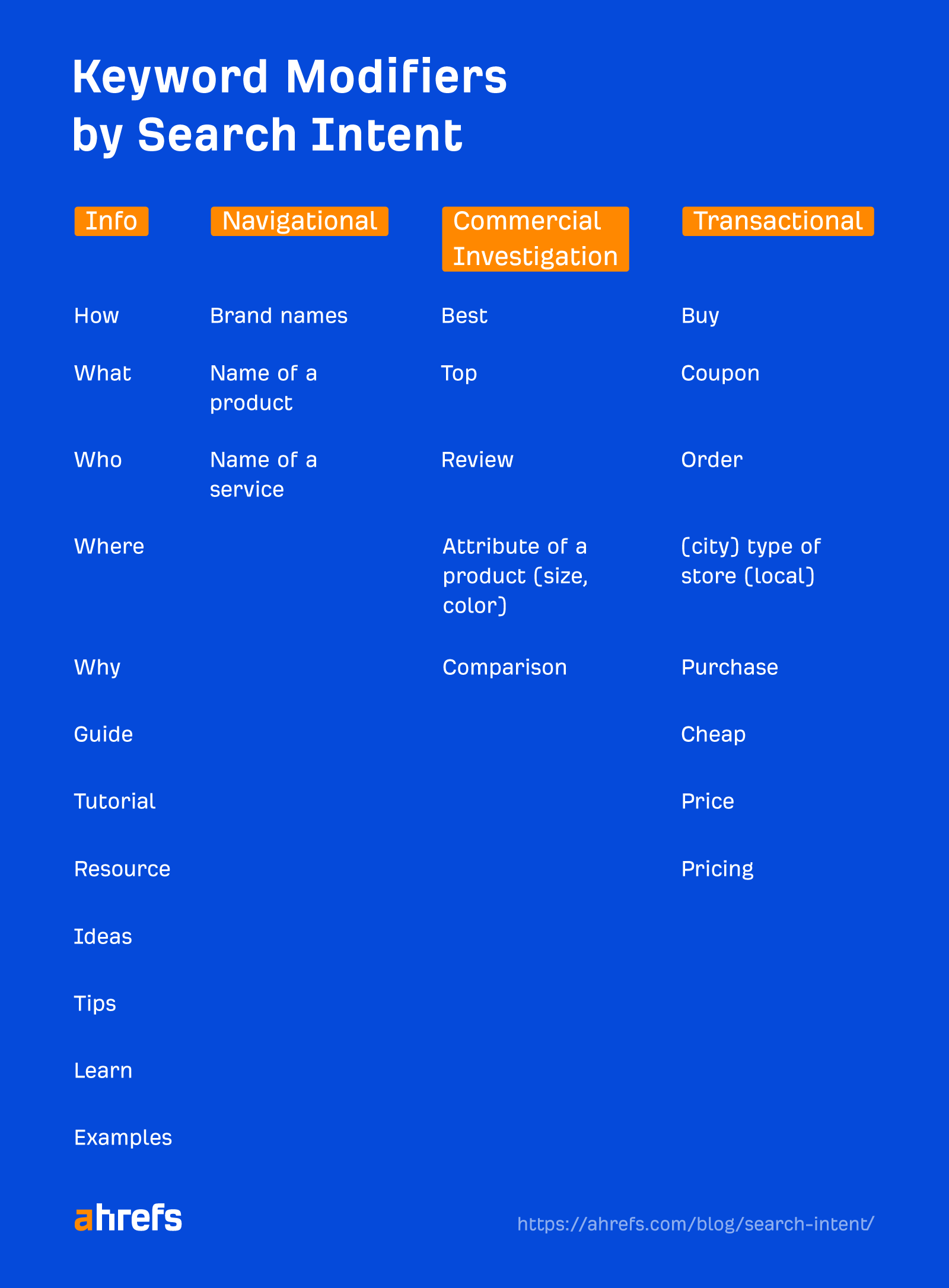 Note :
Header tags also referred to as heading tags, are mainly used to divide the headings and subheadings that we use and see on any web page. Depending on the significance, these tags are represented from H1 to H6. The header tags help increase a web page's ranking and readability during a query raised in any search engine.
When we write "H" while representing H1, H2, etc., it denotes the "heading element." In SEO language, these are referred to as "header tags."
What are H1 or heading tags?
The H1 is an HTML tag indicating the heading of a website.
Let us simplify it:
HTML: is the abbreviation for Hypertext Markup Language. This is the language and is technical and used to construct web pages on most websites.
Tag: An HTML tag is a fragmented code instructing your web browser to display the content.
The heading tag is H1; depending on the significance, these headers are divided.
H1 — It represents the post's title. They're usually keyword-focused, on a webpage or post's "main concept," and written to pique a reader's interest. Many various tactics are used in good SEO. Another significant aspect of "on-page SEO" is HTML to format the page. H1 tags on your pages are an essential element of this. It's critical to understand how to use these H1 tags because they're one of your site's most essential search engine ranking elements.
Heading tags in HTML are used to format your page's headings in order of priority. The H1 tag is the first one on the page, and it tells search engines what to expect from the rest of the page.
To elaborate on what an HTML tag is, HTML (Hypertext Markup Language) is a website-building language. An HTML tag is a simple code that directs a search engine (such as Google) to display the material on a page.
How to write H1 tags?
An H1 tag is produced by sandwiching the heading between two lines of HTML formatting, as shown below:
<h1>the content comes here <h1>
<h1> informs the search engine that the tag begins here, and <h1> informs the search engine that the tag ends here.
What is the importance of H1 tags?
In SEO, H1 tags are essential. It's the second-most crucial ranking element, according to SEO experts.
H1s stand out on the page because of their size, and they inform readers about what they may expect to see on the remaining page.
Over time, SEO has evolved to focus more on accessibility and usability and provide a positive experience to the readers, rather than simply meeting all of the technical requirements. An H1 tag, unlike an HTML title tag, does not just instruct search engines or web pages what to display. However, it impacts the user experience, which is crucial for SEO.
The page title is essentially the H1 tag. The title tag appears on search engine results pages, whereas the H1 tag appears on the page itself. Many individuals utilize the same HTML title tag – H1 so that when a user clicks through to the website, everything matches, and the user lands on that particular webpage and the ranking of the page.
H1 tags that are appropriately chosen and formatted can significantly impact how well your content ranks in search engines and how well searchers respond to it.
Through the header, the search gets simplified and streamlined. Readers can enable shortcuts to jump between marked headers, navigation easier.
Another reason headers are crucial for SEO is that they let users traverse the page more quickly.
SEO Best Practices for the H1 Tag
The H1 tag should be the same as the page title or minor differences because CMS is set up in this manner.
The keywords must be present in the heading. The keywords must be present in both the header and the title. Tactfully, the main keyword must be used in the title, and related keywords can be used in H1 if the content creator has a different title and heading.
It is important to remember very long headings must be strictly avoided as they must not exceed 65 characters. Instead, the short heading must be made descriptive.
It is essential that the H1 tag is accessible and readable to searchers and not hidden. Some themes in WordPress generate H1 tags, but these hide the keywords. Further, the users cannot see the page in the related search.
The presentation and the style of the H1 should be distinct from the remaining headings.
Organize your headings in a hierarchical order; otherwise, you risk confusing both search engines and users. If we simplify the words, the <h1> tag should be first in the HTML code, followed by h2, h3, and so on.
Only one H1 tag must be there on a page to avoid confusion.
The user's intent should be reflected in the H1 tags. If the user does not find the H1 tags interesting, they will leave the page, negatively impacting the SEO, and the customer is lost.
Evolution trend of using the H1 tags:
Google's algorithms are updated regularly, affecting the ranking of the web pages. It should be taken into account that H1 headings have changed throughout time, as have the best practices for using them. According to the earlier method, you were only intended to have one H1 per page. The H1 should have been the most prominent text on the page, including the long-tail keyword. Still, the recent update says to increase the CTR and the ranking, and the H1 tags must be catchy, descriptive, user friendly yet short ( kept within 65to 120 characters); otherwise, it is not reflected in the search engine.
Bottom Line: H1 tags should be used on all of your site's primary pages to pull the reader in and give a clear indicator of the page's content. It can significantly impact SEO performance if you have great H1 tags, especially if they match your title tags.